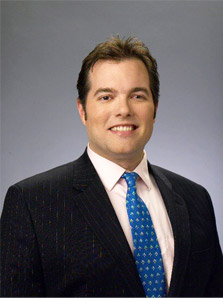 G. Hunt Rounsavall Jr.
Hunt is a native of Louisville and an attorney whose primary areas of practice are real estate and real estate litigation, as well as corporate law and estate planning. He received his bachelor of arts degree in political science from Furman University in Greenville, SC, in 1995 and then graduated from the University of Kentucky College of Law in 1998. Hunt has been licensed since 1998 to practice law in both the state courts of Kentucky and the U.S. District Courts for both the eastern and western districts of Kentucky. He is a member in good standing with the Louisville Bar Association, the Kentucky Bar Association, and the American Bar Association. He is also an associate member of the Greater Louisville Association of Realtors. In addition, he is the author of several published works, including the treatise entitled "Construction Lien Law in Kentucky" (Lorman Publishing, 2001). During his career, he has conducted numerous residential and commercial closings throughout the Commonwealth of Kentucky in the form of purchase transactions and refinances. He has represented banks, mortgage companies, private lenders, and individuals nationwide.

On a personal level, Hunt was raised in a community service-oriented environment, as his parents were integral in the founding and development of Louisville's Ronald McDonald House in 1984. In fact, he joined the Ronald McDonald House board of directors in January 2000. The following year, he was asked to serve as chairman of that organization's first capital campaign since it had originally opened in 1984, and he personally oversaw the raising of over $4,500,000 to expand the House's housing capacity by over 50 percent. He has also served on the boards of directors of several other community organizations throughout Louisville, including the Louisville Science Center. He currently serves on the Norton Children's Hospital Foundation board of directors, on which he also currently serves on the board's finance and grants committee. For his leadership within the community, he was previously named as one of Business First of Louisville's "Forty Under 40," which annually recognizes the top 40 business leaders in the greater Louisville area under age 40. Furthermore, Hunt received a commission as a Kentucky Colonel from Governor Steve Beshear on Sept. 7, 2010, for his overall service to the Commonwealth.

When he's not working, Hunt enjoys spending time with his wife, Kelly, their twin daughters, Kara and Krista, and their new baby girl, Julia. He also enjoys reading, working out, and playing with his dogs, Houston and Jake.